On June 7th, 2016 Karen Webster, CEO of PYMNTS.com and Ken Allen, SVP of Operations at Socure sat down to continue their discussion on the changing landscape of identity verification. This 'Digital Discussion' focused on the methods and frameworks for thinking about a layered approach to consumer authentication.
From AUTHENTICATION by  PYMNTS
Download the slides here: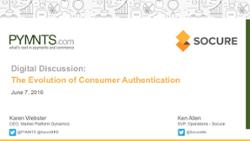 With the average loss of a single fraudulent "new" online bank account in the U.S. approaching a couple thousand dollars, and each incident of eCommerce fraud costing merchants several hundred dollars, now is the time to wonder if the traditional methods of consumer authentication are pulling the weight that they once did.
Spoiler Alert…
They're not. The old standards of name, address and ID matched against "credit header" data of online shoppers simply do not, on their own, provide merchants and FIs with sufficient protection against potential fraud. Optimal authentication processes today need to rely on the entire (and ever-growing) spectrum of available data. The smartest organizations are taking a layered approach to consumer decisioning, separating identity verification from credit determination.
Alternative data can create an accurate 'digital fingerprint' of a consumer, blending trusted online and social media intelligence with conventional offline data for hyper-informed decisions—handled in a way that doesn't sacrifice the consumer experience for security.
MPD CEO Karen Webster rcently spoke with Ken Allen, SVP of Operations at Socure, as part of the #PYMNTalks 'Digital Discussion' series, diving into the best practices for institutions that are facing the challenges of consumer authentication at its current crossroads.
Ken Allen
SVP of Operations at Socure
Ken Allen is an experienced financial and banking professional with extensive experience in various areas, including payments, fraud, operations, treasury, finance, e-commerce, banking, and more. He is the Founder and President of KWA LLC, where he provides consulting expertise to executives and business leaders. He is also SVP Operations at Socure. Previously, he served as the Sr. Vice President of Fraud and Debit Operations and the Vice President of Bank Analysis at Capital One. In this role, he was responsible for the fraud strategy, operations and investigations in addition to debit operations for Capital One Bank. He also has experience as the Vice President, Head of Payments in the Fraud and Operations division at Western Union Ventures. In this role, he handled strategy and operations for the WU Digital Payments Capabilities, Fraud Management, Customer Verification, and Operations. Prior to that, Ken was VP Risk Management at Western Union helping to recognize, minimize and manage exposure across product lines. Ken has also led various functions prior to his experience at Capital One and Western Union, including running Treasury organizations, Financial and Billing organizations, across small to mid-sized companies. He has a passion for technology and the use of it in business, both operationally and customer facing.
Karen Webster
CEO of Market Platform Dynamics
Karen Webster is one of the world's leading experts on payments, commerce and retail innovation and a strategic advisor to CEOs and Boards of multinational players in those sectors. As CEO of Market Platform Dynamics, she works extensively with the most innovative players in the payments, financial services, mobile, retail, B2B, digital media and technology sectors to help them maximize the value of their platform assets, design disruptive new business models and ignite and monetize new innovation. Karen also serves as a member of the advisory board for several emerging companies.
Topics:
Socure
Socure is the leading platform for digital identity verification and trust. Its predictive analytics platform applies artificial intelligence and machine learning techniques with trusted online/offline data intelligence from email, phone, address, IP, device, velocity, and the broader internet to verify identities in real time.